SoCalCustoms | July 04, 2012
Product Review: Newer Tech Power2U
It isn't often that a product comes around and can be universally used by everyone. In these days with Smart-phones, Tablets, MP3 Players and many other gadgets, there are so many cables and adapters for charging all of your daily-use items. This is where the NewerTech Power2U AC/USB Power Outlet comes in. By simply replacing a wall receptacle (or all of them!), you have power outlets available for your larger products that require a 2 or 3-prong plug as well as two USB plugs at your disposal.
We were so confident that we would use the product on a daily basis that we cut a hole in the desk surface where the main computer is and installed it right there for easy access. Of course you don't have to do this, but for us, it worked out much better than putting it in the wall. This desk is a hub for everything that goes on at SoCalCustoms.com. There are two 27-inch monitors for editing, writing articles and making website changes. There are countless cords and plugs for external hard drives, a media/backup server, speakers, phones, iPod, iPad and much more. We will be doing a future article on the arsenal of what we use to run the website from our camera gear to computers to useful gadgets and programs. In short, there is a lot of power running around here and anything that can make managing all of it a little easier, we are open to try. Our initial use for it was to charge our iPad. The Apple products here are used daily and constantly need to be recharged. With their bulky power adapters, they can be a huge hassle. With the Power2U, you can toss the adapters in a drawer!
The iPad also is a special 2.0 amp product so you can't use just any adapter that is smaller than the very large plug it comes with. You can't really even charge it with your computer although it does get a "trickle-charge" when you are syncing it. This product does away with that hassle as well. Simply plug your USB into one of the sliding-shutter protected slots and your iPad is getting juice immediately. Another aspect we like with this product is the ability to have 4 items plugged in simultaneously. We have used many products with both the USB outlets as well as the 3-prong receptacles. Currently we have a 3-Terabyte External Hard Drive, Camera Battery Charger, iPhone and iPad all pulling current with no issues whatsoever.
Installing the product was very easy and would have been even easier if we had just put it into the standard wall receptacle that is already set up. Cut the main power to your outlets, unplug the wiring to your old outlet, wire up the Newer Tech Power2U and install the face plate.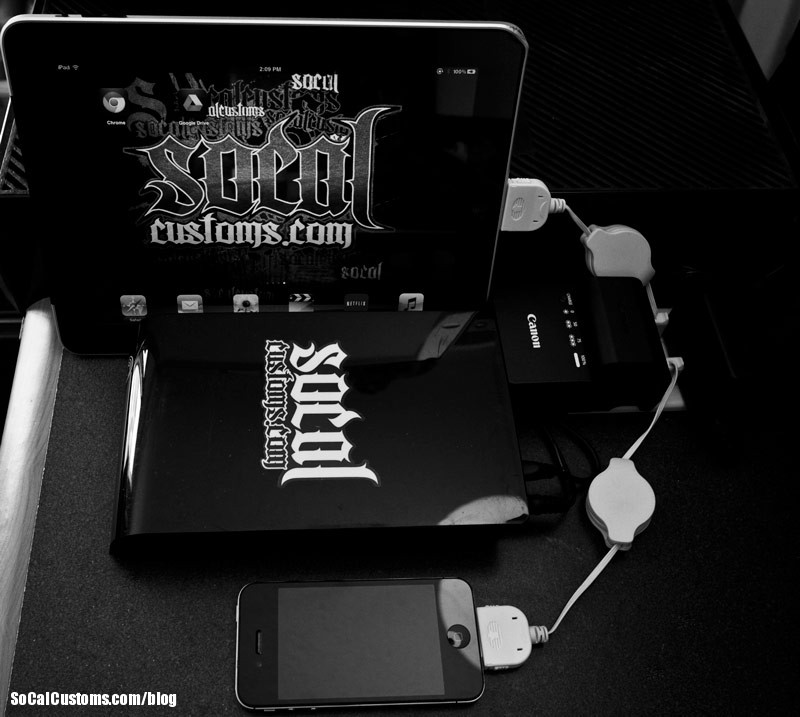 Retractable Cables not included but also very convenient with the Power2U!
Technical data:
Power2U Product Specs
Comes in White, Ivory, Light Almond and Black
Energy-efficient, spring-loaded Safety Shutter design turns USB ports off when connecting cable is removed
Smart Power feature only outputs enough charging power required by the attached device
Installs on standard 15A electrical circuit
Includes mounting screws with white plastic covers and matching white wall plate.
What they say:
Having 2 USB plugs and 2 outlets has seriously made life so much easier it is unbelievable. -GizmoFusion
With the USB 'doors' closed, power to the USB ports is automatically turned off, which makes this device more 'green' than most others of its kind. -Daniweb
There are many ways to charge your devices, but none that are as sleek or as easy to use as the Power2U. -TechDad Review
What we say:
In a time when your daily life includes at least one USB-Powered device, the convenience factor with the Power2U is unmatched.
Installation was simple even to install in a place that wasn't previously set up for power. Their Installation Video can make anyone an Electrician (of sorts). Adding one to your tool chest or workbench would be a whole other level of cool and handiness.
When buying a home, get at least a 20-pack of these before moving in and see how much simpler life can be without bulky adapters!
The above article has been included on our site for archival purposes only.
To see the article as it appeared in the original published form, click the link provided.
All stories have been captured without modification to their content.