Stuff Parents Need | August 27, 2012
Charge Your Phone Easily with Power2U USB Charging Outlet!
NewerTech Media Coverage
A few months ago I started seeing some pins on Pinterest for an outlet that had USB outlets in them. I didn't realize that I could swoon over an outlet plug until I saw these. What a clever invention that would save me time every other day as I frantically hunt down the attachment thingy I need to plug my phone or iPad into the wall to recharge. Tim and I are constantly moving that thing around, which means it is hard to find! I'm guessing that we aren't the only family with that situation.
But it is no longer a problem at all because have now installed the Power2U outlet. This has the standard two plugs like you would see on most outlets, but it also has two USB ports for a direct connection with tech devices such as phones. Tim and I can both charge our phones at the same time! Also, I don't have to unplug my computer to charge my phone, which is something I used to have to do frequently. It's pretty much awesome, and it is something that has made life a little less hectic for us.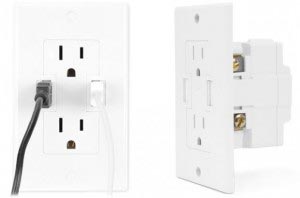 I suspect that as new homes are built, these types of outlet will start to become the norm. They make for a really cool way to upgrade your home now. I don't think every outlet needs to be changed over, but now that I have one, I wish I had 2 or 3 more to put in other rooms of the house.
The Power2U comes with installation instructions (including a how to video). It took Tim about 30 minutes to get it installed.
Want one of your own? Power2U comes in white, almond, ivory and black and can be purchased for $24.95 (they are having a sale right now, too!).
Disclosure: I received a complimentary product for review purposes. All thoughts and opinions expressed here are strictly my own.
The above article has been included on our site for archival purposes only.
To see the article as it appeared in the original published form, click the link provided.
All stories have been captured without modification to their content.