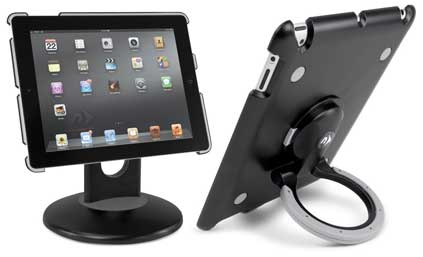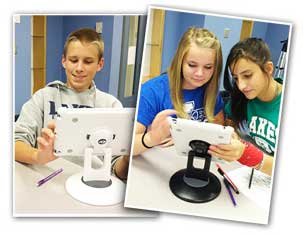 See classroom hands-on case study results!
Lakes Community High School
An "Amazing" Product For Classrooms
The NewerTech
GripStand
and
GripBase
have been a lifesaver and stress reducer in my 21st century classroom. We spent precious funds to purchase 15 Apple iPad 2's for use by 240 students each day. Protecting the iPads during use is a top priority. The GripStand and GripBase have definitely prevented accidental damage of the iPads. 
The cases are durable and easy to label. They securely hold and protect the iPad from occasional "rough use". The GripBase is my favorite aspect! It is heavy and reliable, and they have worked flawlessly during eight weeks of use so far. They make it easy for students to collaborate and create as the bottom of the base swivels AND the screen can flip and turn from where the base attaches to the iPad. I no longer have to worry about iPads sliding off the table. This is an amazing product and we are very thankful for the confidence it gives us in ensuring the safety of our technology investment.
Morgan O'Connor / Social Studies Teacher
Lakes Community High School
Copyright 2006 – 2022 Newer Concepts Development Corporation,
Site Index
,
Privacy Policy
Apple, Apple TV, FireWire, iBook, iMac, iPad, iPad Air, iPhone, iPod, iPod classic, iPod nano, iPod touch, Lightning, Mac, MacBook, MacBook Air, MacBook Pro, Mac mini,
macOS, Mac Pro, MagSafe, PowerBook, OS X, Retina, and Time Machine are trademarks of Apple Inc., registered in the U.S. and other countries. iPad mini is a trademark of Apple, Inc.