USB Auto Charger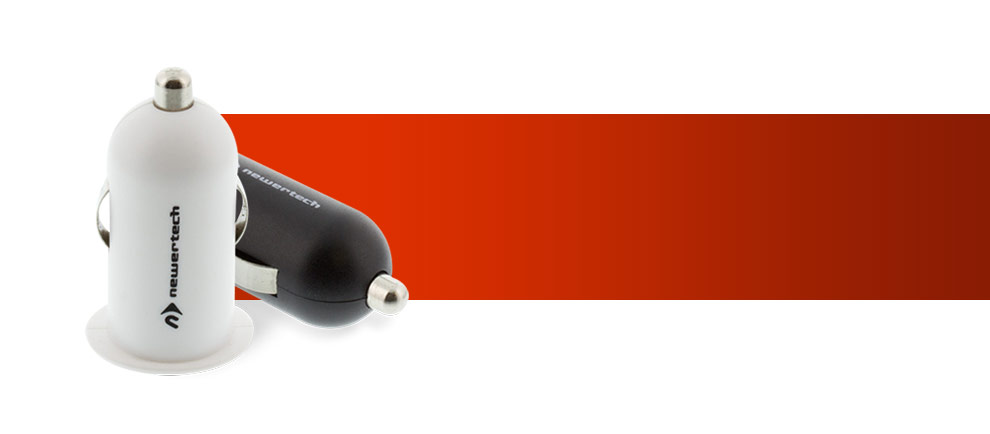 Charge in your car via USB
Works with any USB-chargeable device
– Any USB chargeable/powered device, including Android
– Fits any vehicle's 12V power accessory outlet
– Charging indicator LED
– Available in Black and White
Mac and PC compatible
1 Year NewerTech Product Limited Warranty

USB Auto Charger
USB Port
The NewerTech® USB Auto Charger lets you charge all your USB chargeable devices during car trips, and arrive with a fully-charged battery.
Features
Fits any vehicle's 12V power accessory outlet.
Charging indicator LED.
Warranty
1 Year NewerTech Product Limited Warranty
Works with
Any USB chargeable/powered device, including Android
Copyright 2006 – 2022 Newer Concepts Development Corporation,
Site Index
,
Privacy Policy
Apple, Apple TV, FireWire, iBook, iMac, iPad, iPad Air, iPhone, iPod, iPod classic, iPod nano, iPod touch, Lightning, Mac, MacBook, MacBook Air, MacBook Pro, Mac mini,
macOS, Mac Pro, MagSafe, PowerBook, OS X, Retina, and Time Machine are trademarks of Apple Inc., registered in the U.S. and other countries. iPad mini is a trademark of Apple, Inc.