NuMount Pivot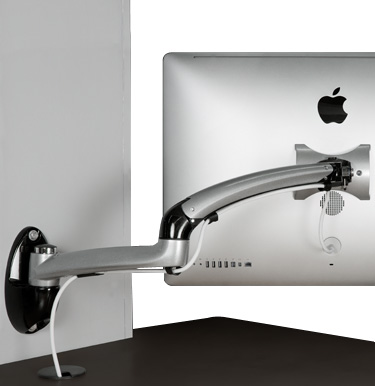 Flexible Wall Mount
Position your display* for maximum comfort

– Save space on your desk or work area.
– Offers extending, retracting and tilt motion capabilities.
– Silver finish complements the aluminum iMac.
– Provides easy organization of cables.

NuMount Pivot
Full-range flexibility for maximum comfort and productivity.
With its flexible extending and retracting neck, the NuMount Pivot lets you position and rotate your iMac, Apple Cinema Display or Thunderbolt Display* however you see fit! Eliminate the strain on your neck and eyes by positioning your display to maximize comfort by utilizing its extension and tilt motion capabilities. The NuMount Pivot can even rotate 90 degrees to a vertical portrait view, so you can spend less time scrolling and more time reading. The NuMount Pivot also saves you valuable workspace, allowing you to slide your keyboard and other accessories beneath your display when not in use, and cables from your display will be conveniently routed beneath the arm for a clutter-free desk. And the easy to install mount's silver finish perfectly complements Apple's anodized aluminum!
Provides full-range of extending, retracting and tilt motions to maximize display viewing comfort by reducing neck and eye strain.
Includes NuMount VESA Mounting Plate and instructions for 75mm x 75mm and 100mm x 100mm VESA mount displays.
Support for diplays weighing up to 31 lbs.
Frees up workspace by elevating monitor above desk.
Screen rotates 90 degrees to a "portrait" view for less scrolling, easier reading.
NuMount Pivot neck reaches 22" when fully extended.
Silver finish complements the aluminum iMac.
Provides easy organization of cables.
Accommodates mid-2007 through mid-2009 24" iMac, Late 2009 through 2011 27" iMac, 24" & 27" Apple LED Cinema Displays, and 27" Apple Thunderbolt Display.
3 Year Newer Technology Limited Warranty Register Here.
This product is compatible with...
Copyright 2006 – 2022 Newer Concepts Development Corporation,
Site Index
,
Privacy Policy
Apple, Apple TV, FireWire, iBook, iMac, iPad, iPad Air, iPhone, iPod, iPod classic, iPod nano, iPod touch, Lightning, Mac, MacBook, MacBook Air, MacBook Pro, Mac mini,
macOS, Mac Pro, MagSafe, PowerBook, OS X, Retina, and Time Machine are trademarks of Apple Inc., registered in the U.S. and other countries. iPad mini is a trademark of Apple, Inc.