The Pad Protector mini
High style and practical functionality.
With a luxurious, top grain leather exterior and smooth suede interior, The Pad Protector mini keeps your iPad mini fully protected and looking great! A side loading, full framed holder keeps the iPad mini in place while allowing complete access to all ports and controls. The cover discreetly fastens with high powered slimline magnets that will wake your iPad mini up when it is opened and will put it to sleep when the cover is closed. The cover additionally functions like a "kickstand", providing both comfort and stability when typing.
Maintains use of iPad mini magnetic on/off "wake/sleep" feature*
Top grain leather exterior protects iPad mini while offering full access to all ports and controls
Soft suede interior lining
Stable when typing and improves viewing comfort
Supports vertical** (for video viewing) and horizontal (for typing and game playing) positioning
Front and rear camera cutouts for unobstructed images
Screen protector and microfiber cleaning cloth included
Weight: under 6.4 ounces
1 Year NewerTech Product Limited WarrantyRegister Here
*To ensure proper alignment of magnets for the iPad mini's "wake/sleep" feature after using the Pad Protector mini in the vertical position, the front cover should be pressed firmly and held in position until the cover is flat.

**Because the Pad Protector mini is made from durable, long-lasting top grain leather, a "break in" period is required for the case to provide maximum stability when using in the vertical "viewing" mode. For added stability, use gentle pressure when inserting the front cover into the case's rear flap.
Screen Protector Installation Guide:
Step 1.
Make sure there are no fans blowing in the room and let any dust settle from people movement for five minutes before starting the project.
Step 2.
Begin preparing your iPad screen surface using the included microfiber cloth.
Step 3.
Obtain a ruler, credit card, Post-It note pad, or other stiff, small, and straight edged object to assist in applying the protective film.
Step 4.
Start applying the protective film at the home button end of the iPad and gently work from that bottom upwards. DO NOT peel the protective film from the sheet it comes shipped on until it's near the edge of the surface of the glass. That keeps any contaminants from statically clinging to the screen protector.
Step 5.
Work any bubbles from the center to the edge using your sourced straight edged object.
Step 6.
Take care not to create any fingerprints on the edge of the protective film by not touching that surface edge.
This product is compatible with...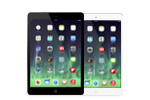 iPad mini 3
(October, 2014)
16GB, 64GB, 128GB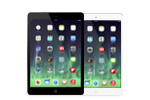 iPad mini (with Retina)
aka. iPad mini 2
(October, 2013)
16GB, 32GB, 64GB, 128GB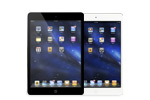 iPad mini
(October, 2012)
16GB, 32GB, 64GB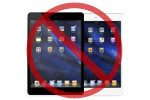 NOT COMPATIBLE
iPad mini 4
(September, 2015)
16GB, 64GB, 128GB
*This product is not compatible with the 4th generation iPad mini, due to design changes relating to the iPad's magnets.