MAXPower 802.11n/g/b Wireless PCI Adapter
Add Wireless High Speed Connectivity
to your desktop computer with Plug and Play ease

– Easy to connect via USB, Plug and Play Operation.
– Ideal for high data rate needs like video streaming.
– Optimal solution for Mac Desktop user.
– Security features protect your desktop computer.
Mac and PC compatible
2 Year Warranty
Add Wireless Connectivity to your desktop computer with Plug and Play ease!
Fully Mac OS X Supported for Quick and Easy Set-Up
Network Type Performance
& Indoor Reception Range

**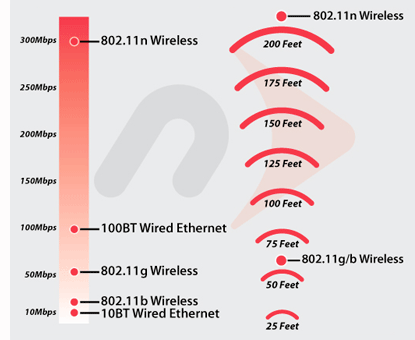 Fully Mac OS X supported with with on-screen menu set-up and CD-ROM with user guide, quick installation guide, and user manual documentation.
32-bit interface fits standard internal PCI card slot.
IEEE 802.11n draft 2.0 compliant.
Up To 4x greater range with MIMO technology.
Up to 300Mbps data transmission rate.
Backward compatible with 802.11g/b.
Moveable antenna base.
Designed to stream movies, music, photos, HD video, VoIP phone calls, and large files.
Advanced security features: 64/128bit WEP, WPA, WPA2.
Mac OS X 10.3.9 users will need to download the latest driver available here (ZIP)
2 Year Warranty Register Here
Certifications
Temperature Operating
Temperature Storage
Humidity
FCC ID
Warranty
Output Power
11g: 14.5dBm@54Mbps
11b: 17.5dBm@11Mbps
11n (20MHz): 12.5dBm@144Mbps
11n (40MHz): 12.5dBm@270Mbps
Frequency Band
2.4000~2.4835GHz
(Industrial Scientific Medical Band)
Dimensions
4.92" x 4.72" x 0.79"
(125 x 120 x 20mm)
Weight
Standards
IEEE draft 802.11n, 802.11b/g
Chipset
Ralink RT2860 (MAC/BBP ) and RT2820 (RF)
LEDs
Data Rate
11b: 11, 5.5, 2, 1 Mbps per channel
11g: 54, 48, 36, 24, 18, 12, 9, 6Mbps per channel
11n (20MHz): 144, 130, 115, 86, 57, 43, 28, 14Mbps
11n (40MHz): 270, 240, 180, 120, 90, 60, 30Mbps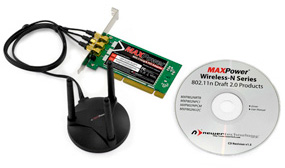 Newer Technology MAXPower 802.11n/g/b Wireless PCI Adapter
Moveable antenna base
CD-ROM (User Guide & Utility)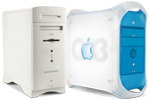 Power Macintosh G3 - all models, entire series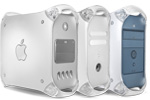 Power Mac® G4 - all models, entire series
Power Mac G5
(June, 2003)
1.6GHz, 1.8GHz, dual 1.8GHz, dual 2.0GHz
Power Mac G5 (June 2004)
(June, 2004)
dual 1.8GHz, dual 2.0GHz, dual 2.5GHz
Power Mac G5 (Late 2004)
(October, 2004)
1.8GHz
Power Mac G5 (Early 2005)
(April, 2005)
dual 2.0GHz
Power Mac G5 (Early 2005)
(April, 2005)
dual 2.3GHz, dual 2.7GHz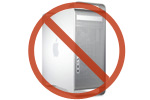 NOT COMPATIBLE
Power Mac G5 (Late 2005)
(October, 2005)
2.0GHz, 2.3GHz, dual 2.5GHz
Copyright 2006 – 2022 Newer Concepts Development Corporation,
Site Index
,
Privacy Policy
Apple, Apple TV, FireWire, iBook, iMac, iPad, iPad Air, iPhone, iPod, iPod classic, iPod nano, iPod touch, Lightning, Mac, MacBook, MacBook Air, MacBook Pro, Mac mini,
macOS, Mac Pro, MagSafe, PowerBook, OS X, Retina, and Time Machine are trademarks of Apple Inc., registered in the U.S. and other countries. iPad mini is a trademark of Apple, Inc.