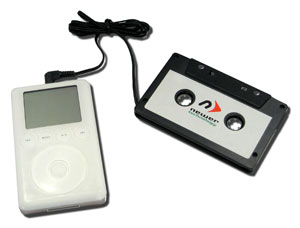 Audio Cassette Adapter
for all iPod® models
(or any device with a headphone jack)
Do you own an Apple iPod® or a device with a headphone jack? Ever wanted to play it through your cassette deck? Easy to use, just like plugging in your headphones. For Clean, Clear, and Dynamic Stereo sound right in your own car.
The Newer Technology Audio Cassette Adapter is just what you're looking for!
Plug the Audio Cassette Adapter into the headphone jack of your music device.
Insert the tape into your car stereo's tape deck.
Push the play button on your music device and enjoy!
Features:
Cassette-shaped Interface inserts into your car's tape deck
compatible with decks that have the tape opening facing the side.
Mini-plug inserts into your iPod headphone jack.
Silent mechanism reduces mechanical noise on the road.
Self-adjusting spring-loaded head maintains optimum contact with your cassette deck's tape head.
24k gold contacts
44" cord
Newer Technology Audio Casette Adapter $12.99
For More Info | Buy Now