Quiet, cool operation with auto-adjusting fan. Thermal probe automatically

regulates and varies fan speed according to temperature of the hard drive.
Passive radiator heat sink built into the case protectively displaces heat
away from the hard drive. An extra large aluminum heat sink directly contacts the hard drive
(side and top) for optimum data temperature protection. There also are concealed ventilation holes for protective thermal dispersion and silent cooling.
Kennsington MicroSaver security slot provides maximum investment
protection by allowing the NewerTech miniStack to be proprietarily anchored to a desk or other surface via Kennsington MicroSaver security cable.
3 FireWire 400 (1394A) Ports (6 pin) - 2 rear, 1 side. Data Transfer FireWire 400
(1394a) up to 400Mbps (50MB/s)
4 USB 2.0 High Speed (USB 1.1 backwards compatible) Ports - 1 port
(4pin) upstream (B Type) / 3 Ports downstream (A Type) - 2 rear, 1 side. Data Transfer USB 1.1 up to 12Mbps (1.5MB/s) & USB 2.0 up to 480Mbps (60MB/s).
Mac Requirements:
FireWire 400 (1394a): Mac OS 9.2 or higher
USB 2.0: Mac OS 10.2 or higher
USB 1.1: Mac OS 9.2 or higher
Windows Requirements
FireWire 400 (1394a): Windows98SE/ME/2000/XP
USB 2.0: WinME/2000/XP
USB 1.1: WinME/2000/XP
"Cool Blue" LED Activity Light assures proper operation indication of

access and power engagement.
Intelligent Power Smart power switch will power up and down in tandem
with your computer automatically.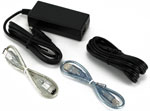 All cables included along with full 2 year limited warranty*.
EMC Retrospect Express
Designed for safety and
security, EMC Retrospect protects your desktop or notebook against loss due to viruses, newly installed software, user error, damaged hardware, hardware upgrades, hackers, and lost or stolen computers. EMC Retrospect Express provides complete protection, ease of use, and fast backups with 100% accurate restores.
Intech Speed Toolsconsist of a suite of utilities managed by an
application which controls the launching, documentation and version control of each individual component utility, such as Disk Defrag and QuickBack. An easy-to-use installation and removal application is provided to make installation a snap, yet powerful enough to allow you to customize which utility component set you would like to create.