Format Your Hard Drive in Mac OS 9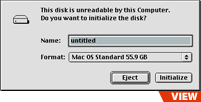 STEP 1
To initalize your new FireWire drive under Mac OS X, simply plug your drive into your computer. Upon mounting the new drive, you will see this dialog box. Click on Initialize to proceed.
STEP 2
Type in the name for your new drive, choose either Mac OS 9 standard or extended file system (HFS or HFS+) and click initialize. Your new drive will mount on the desktop.
STEP 3
If you need to erase your drive in the future, simply highlight the drive you wish to erase and select "Erase Disk" from the special menu in the finder. Any other partitioning, or reformatting of the drive must be done using a 3rd party drive formatting software, such as Intech Hard Disk SpeedTools or using Disk Utility under Mac OS X.