NuStand Alloy for Apple TV
Sturdy aluminum base elegantly holds your Apple TV for convenient use.
The sleek, modern way to incorporate the Apple TV on your desktop or into your home theater. By orienting the Apple TV into a vertical position, you save space while gaining more convenient access to its rear ports and connections, as well as substantially improving airflow around the unit for better cooling.
With its durable, aluminum alloy body, the NewerTech NuStand Alloy for Apple TV provides a modern and secure way to display your Apple TV. Besides its good looks, NuStand Alloy gives you greater placement flexibility in your home theater cabinet plus easier access to all the Apple TV ports and connections. Non-skid rubber feet provide stable operation while the satisfyingly smooth rubberized black finish preserves its elegant beauty.
This product is compatible with...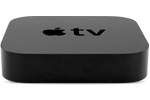 Apple TV (Late 2010)
(September, 2010)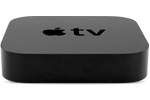 Apple TV (Early 2012)
(March, 2012)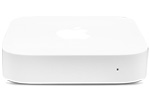 Airport Express (Mid 2012)
(June, 2012)