NuVue Screen Protector with Privacy Shield
The NuVue Screen Protector with Privacy Shield keeps your iPad's screen as clear, sharp, and scratch-free as brand new while preventing others from viewing your screen.
Custom fit to your iPad, this smudge reducing privacy and screen protector is peel-and-stick easy to install. Unlike other screen protectors with adhesives that can create air bubbles, the NewerTech NuVue Privacy Protector's static cling design provides years of smooth finger tip touch sensitivity and precision usage.
Excellent for open, high-traffic environments where data privacy can be compromised, the NewerTech NuVue Privacy Protector presents a dark, blank screen to others around you without blurring or distorting your direct view. Now you can safely view your email, private data, and surf the web free from prying eyes while retaining the ability to turn your iPad horizontally and share presentations, videos, and photos viewable from any angle.
Installation Guide:
Step 1.
Make sure there are no fans blowing in the room and let any dust settle from people movement for five minutes before starting the project.
Step 2.
Begin preparing your iPad screen surface using a lint free wipe and solution kit similar to this:
Clean and Polish Kit
Step 3.
Obtain a ruler, credit card, Post-It note pad, or other stiff, small, and straight edged object to assist in applying the protective film.
Step 4.
Start applying the protective film at the home button end of the iPad and gently work from that bottom upwards. DO NOT peel the protective film from the sheet it comes shipped on until it's near the edge of the surface of the glass. That keeps any contaminants from statically clinging to the screen protector.
Step 5.
Work any bubbles from the center to the edge using your sourced straight edged object.
Step 6.
Take care not to create any fingerprints on the edge of the protective film by not touching that surface edge.
This product is compatible with...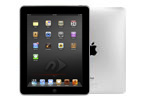 iPad 1st Generation
(January, 2010)
16GB, 32GB, 64GB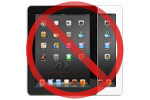 NOT COMPATIBLE
iPad 2nd Generation
(March, 2011)
Model ID:
A1395, A1396, A1397
16GB, 32GB, 64GB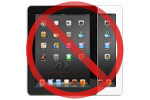 NOT COMPATIBLE
iPad 3rd Generation
(March, 2012)
Model ID:
A1416, A1430, A1403
16GB, 32GB, 64GB