StoraDrive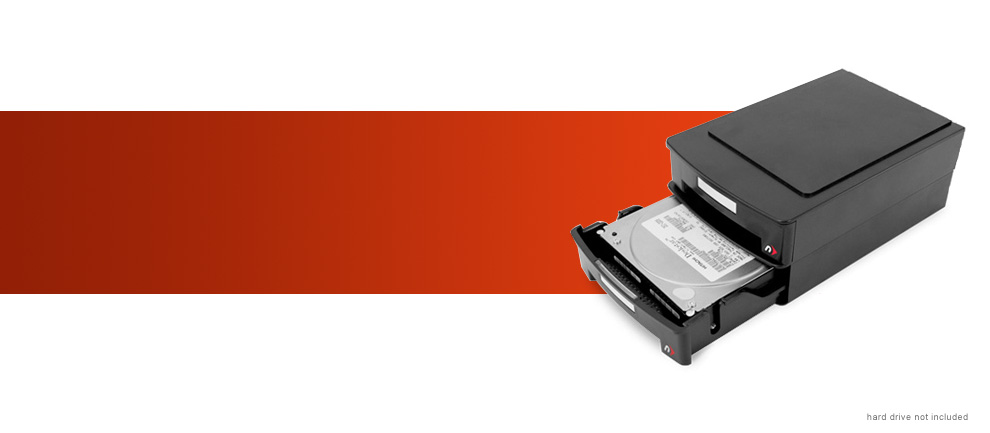 Stackable anti-static cases
for all 3.5" Hard Drives

– Economical, yet highly functional hard drive storage and access
– Easy access without disrupting other cases
– Add cases as storage needs grow
– ABS plastic provides safe, durable drive storage
Stackable

interlocking design

StoraDrive
Stackable anti-static cases for all 3.5" Hard Drives. Featuring two interlocking cases with front drawer identification label.
Store, Protect

and Organize
Your 3.5" hard drives easily and conveniently. Featuring two interlocking, anti-static stackable cases with front drawer identification label, StoraDrive allows you to safely archive drives and quickly access them later when needed. Add more StoraDrives and keep stacking them as your drive storage need grows.
Economical, yet highly functional hard drive storage and access.
Smooth, sliding drive storage drawer for easy access without disrupting other cases.
Each drive drawer includes a convenient label area for easy content identification.
Stackable, interlocking design enables more StoraDrive cases to be added as storage needs grow.
Anti-static injection molded ABS plastic provides safe, durable drive storage.
1 Year NewerTech Product Limited Warranty Register Here
Color
Warranty
1 Year NewerTech Product Limited Warranty
Disk Type
Holds any 3.5" IDE/ATA/SATA HDD
Dimensions
6.9" x 4.6" x 1" (each)
175mm x 118mm x 35mm
(2) NewerTech StoraDrive Cases
Copyright 2006 – 2022 Newer Concepts Development Corporation,
Site Index
,
Privacy Policy
Apple, Apple TV, FireWire, iBook, iMac, iPad, iPad Air, iPhone, iPod, iPod classic, iPod nano, iPod touch, Lightning, Mac, MacBook, MacBook Air, MacBook Pro, Mac mini,
macOS, Mac Pro, MagSafe, PowerBook, OS X, Retina, and Time Machine are trademarks of Apple Inc., registered in the U.S. and other countries. iPad mini is a trademark of Apple, Inc.