NuGuard GripStand mini / GripBase Bundle
Get a grip on all your iPad® mini display needs.
The NewerTech® NuGuard® GripStand® mini & GripBase® bundle is the multi-use solution for using your Apple® iPad® mini on the run or at a desk.
The hard plastic protective shell of the GripStand mini grips your iPad mini snugly while enveloping it in a shock-absorbing inner rubber liner. The removable, stand can be swiveled 360° and positioned at virtually any angle for viewing or typing needs. The desktop stand also doubles as a highly effective one hand grip so you can use your iPad mini while standing or walking. And to take presentations to the next level, the NuGuard GripStand mini handle can even be rotated to use as a hook to hang your iPad mini on the wall in either landscape or portrait orientation.
Tips for installing iPad in NewerTech NuGuard GripStand:
Place GripStand with handle side on work surface, and so "top" side is furthest from you
Slide top part of iPad into place
Push down gently on corners and edges until rubber "lip" slides over top
Do the same along the edge and bottom, always pressing at outermost edge of iPad
Once the lip is over the edges of the iPad, it is securely attached
When you want to turn your iPad mini into a desktop workstation, the GripStand's shell locks into the GripBase to provide a fully adjustable viewing angle in landscape or portrait modes along with 360° rotation. The wide, weighted base makes it virtually impossible to knock over and perfect for high traffic areas.
GripStand mini fits seamlessly with Apple's SmartCover. Use the GripStand's desktop stand as a handle to carry your iPad mini like a briefcase. Or, when travel bag space is a consideration, just twist the desktop stand to remove it. 1 Year NewerTech Product Limited Warranty
Register Here
This product is compatible with...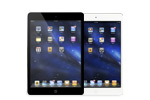 iPad mini
(October, 2012)
16GB, 32GB, 64GB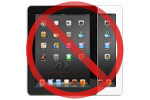 NOT COMPATIBLE
iPad 4th Generation
(October, 2012)
16GB, 32GB, 64GB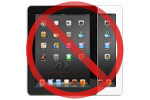 NOT COMPATIBLE
iPad 3rd Generation
(March, 2012)
Model ID:
A1416, A1430, A1403
16GB, 32GB, 64GB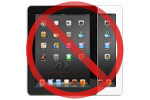 NOT COMPATIBLE
iPad 2nd Generation
(March, 2011)
Model ID:
A1395, A1396, A1397
16GB, 32GB, 64GB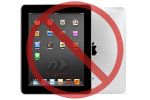 NOT COMPATIBLE
iPad 1st Generation
(January, 2010)
16GB, 32GB, 64GB