iPad & iPhone Screen Protectors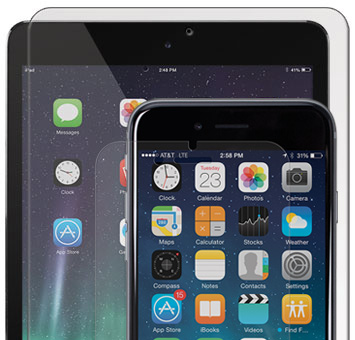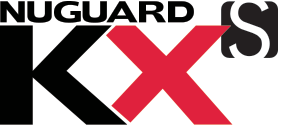 The NuGuard KXs screen provides incredible scratch, shatter, and impact protection with great function that doesn't impede the display, at a price you'd pay for just a basic screen cover!

Impacts and Scratches
Light Hail and Rocks

Random Projectiles
Universal, Full, or Case Friendly Sized "Universal Size" KXs Screen Armor can be used with or without a case. "Full Size" KXs Screen Armor is designed to protect your device's entire screen, while "Case Friendly" KXs Screen Armor leaves a small gap around the edge to allow room for a case.
Triple Layer X-Orbing Protection

Versatile protection keeps your device's screen looking like new. Three separate layers combine into one ultra-thin, 0.28mm thick protective shield with advanced energy x-orbing technology to help prevent damage from impacts and scratches while not affecting the screen's touch sensitivity or clarity.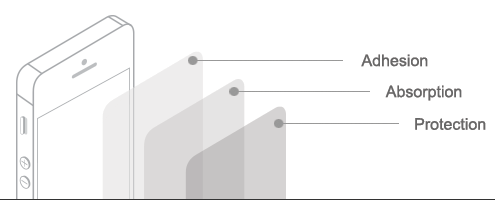 Protection
This crystal clear Retina display's friendly coating keeps dust and dirt away from the device's screen with no image distortion, yellowing or hazing over time.
Absorption
This military-grade kinetic energy x-orbing protection layer is hammer-hit tough, with a 3H hardness scale rating and can even self-heal from minor impact dents.
Adhesion
This self-adhesive layer requires no water or other liquids to install and provides a bubble-free look with no sticky residue if removed or repositioned.
KXs Case Friendly
Protection inset from the edge
KXs Full Size
Protection edge-to-edge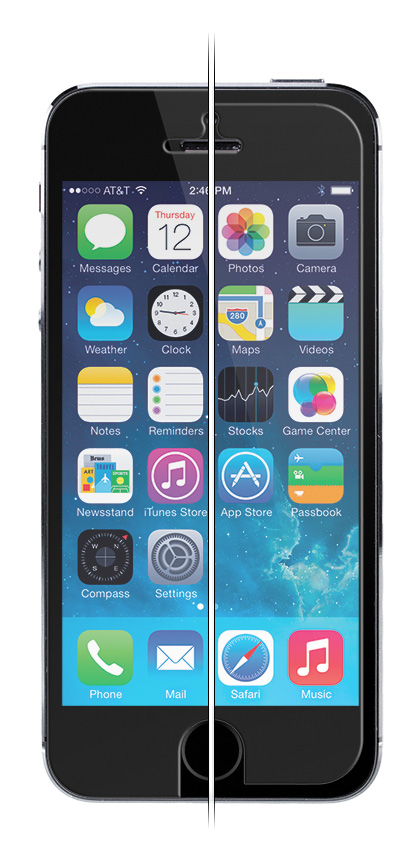 Introducing KXs (2:16)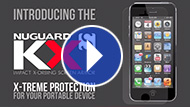 NuGuard KXs for iPad 4/3/2 is not for use with gasket style covers
as it will cause the protector to bubble or lose adhesion.
NuGuard KX
s
for
i
PHONE 8/8 Plus/7/7 Plus
NuGuard KX
s
for
i
PHONE 6 Plus
NuGuard KX
s
for
i
PHONE 5/5C/5S/SE
NuGuard KX
s
for
i
PHONE 4/4S
NuGuard KX
s
for
i
PAD MINI
NuGuard KX
s
for
i
PAD 4/3/2
NuGuard KXs for Samsung Galaxy S4
Warranty
1 Year NewerTech Product Limited Warranty
Application
100% dry application
Bubble free installation
Includes lint free cloth, adhesive dust removal tool, and application tool
Physical
0.28mm thin
3 layer design
Unique shock and break resistant layer
Maximum screen clarity
Step 1. Make sure there are no fans blowing in the room and let any dust settle from people movement for five minutes before starting the project.

Step 2. Begin preparing your screen surface using the included lint free wipe. Remove all fingerprints, dust, and oils.

Step 3. Make sure you have the included straight edge plastic tool to help apply the protector.

Step 4. Start applying the protective film at the home button end of the device and gently work from that bottom upwards making sure you have everything straight. DO NOT peel the protective film from the sheet it comes shipped on until it's near the edge of the surface of the glass. That keeps any contaminants from statically clinging to the screen protector. The protector will lay itself down and adhere to the screen easily.

Step 5. Work any bubbles from the center to the edge using the included straight edge tool.

Step 6. Take care not to create any fingerprints on the edge of the protective film by not touching that surface edge.

Step 7. If you have any dust under the screen, use the included blue sticky sheet to remove them. If you do have dust to remove, you should use a piece of tape to help lift the screen protector off of the device. Don't use your fingernails, as you can separate the multiple layers of screen protector accidentally.
Copyright 2006 – 2022 Newer Concepts Development Corporation,
Site Index
,
Privacy Policy
Apple, Apple TV, FireWire, iBook, iMac, iPad, iPad Air, iPhone, iPod, iPod classic, iPod nano, iPod touch, Lightning, Mac, MacBook, MacBook Air, MacBook Pro, Mac mini,
macOS, Mac Pro, MagSafe, PowerBook, OS X, Retina, and Time Machine are trademarks of Apple Inc., registered in the U.S. and other countries. iPad mini is a trademark of Apple, Inc.